Metrolina Falls Prevention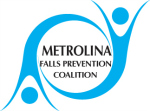 "Don't Fall For It: Maintain Your Independence."
Our Mission is to reduce falls and related injuries through collaborative prevention strategies.
Our Goals
Raise awareness through outreach efforts that falls are preventable and controllable
Educate professionals and community leaders on falls related injuries and prevention strategies
Share and promote evidence-bases, best, and promising practices
Promote physical activity in our communities
Who We Are
Community Members
Professionals
Advocates
Volunteers
Join Us
Join the Falls Coalition so you can help share information in the community to increase awareness about falls and falls prevention! For more information contact Kristen Scarano or Margaret White.
Ways You Can Help
Facebook page help
Webpage help
Advocating in your community
Fall prevention expertise
And more…