Pride in Care North Carolina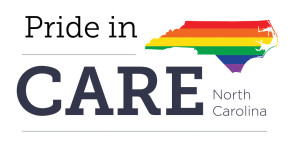 Pride in Care North Carolina is a free cultural competency training initiative for North Carolina skilled nursing facilities for working with LGBT residents supported by a Civil Money Penalty Grant.
---
Pride in Care North Carolina:
Is partnering with the North Carolina Association of Area Agencies on Aging and the North Carolina Ombudsmen to offer 16 in-person 3 hour "Train the Trainer" trainings for Skilled Nursing Facility staff throughout North Carolina over 3 years starting in 2020.
Offers Continuing Education Credits for Nursing Home Administrators, Nurses, Social Workers and Activity Directors.
Is a "Train the Trainer" model. Attendees will receive a training manual and a flash drive of LGBT cultural competency curriculum and training materials. The training materials are designed to serve as 20 to 30 minute in-services that can be conducted by the trained staff member to train additional facility staff. (1 set of training materials per facility)
Recognizes it is challenging for staff to attend in-person trainings. In addition to the in-person trainings, Pride in Care North Carolina will provide FREE online cultural competency SAGE training vouchers for Skilled Nursing Facilities in order to make the training as accessible as possible.
Pride in Care North Carolina curriculum content:
LGBT Affirmative Language
LGBT History & Experiences
Residents' Rights
Best Practices for creating an inclusive Skilled Nursing Facility
Pride in Care Leader Resources
Use the button below to access your resources.
---
Virtual SAGE Care Training :
LGBT Cultural Competency Virtual Training Program For Skilled Nursing Facility Staff
Benefits:
Complete the training on your own time, when it is convenient for you!
Potential to earn SAGE Credentials for your Community!
Provide the highest level of inclusive care for your residents!
Open to ANY SNF staff members!
No cost through the Pride in Care Training Program!
Complete the inquiry form to start your enrollment:
Pride in Care Awards
2021 George Maddox Award from NCDAAS
2022 ASA DEI Award
2022 USAging Aging Achievement Award