COVID-19 in the Centralina Region
Project Overview:
The COVID-19 Vaccine Project was a one-year public health initiative to help increase vaccination rates and expand access to the COVID-19 Vaccine for older adults and people with disabilities in the nine-county Centralina region. This project was supported by grants from the Center for Disease Control and Prevention (CDC), the Administration for Community Living (ACL), and the N.C. Department of Health and Human Services (NCDHHS).
In early 2021, access to COVID-19 vaccines became available to the general public with increasing availability as the calendar year advanced. Vaccines are incredibly important to reducing severe health impacts associated with COVID-19, especially for older adults.
Centralina AAA partnered with Centralina Regional Planning to help target outreach to individuals and communities that were most in need of current information about vaccines. The Planning team provided support with stakeholder engagement and used mapping to identify areas in the region with the highest need for resources and support related to COVID-19. Other critical partnerships included those with local senior centers, health departments and nutrition centers, as well as media companies and community-based organizations.
Project Approach:
Throughout the project's duration, the project team faced a variety of hurdles and challenges:
Low initial vaccination rates among target populations
A diverse service region with unique barriers to vaccination
Limitations on outreach and engagement due to the pandemic
Limited staff resources with which to reach an expansive region
Centralina AAA collaboratively leveraged several strategies to overcome these barriers:
Surveying and roundtables with community members and leaders
Development of a data-driven target area index to prioritize outreach efforts in the region's most vulnerable communities
Bilingual outreach materials and customized engagement for Latino residents
A mix of static and interactive outreach methods to reach target populations where they were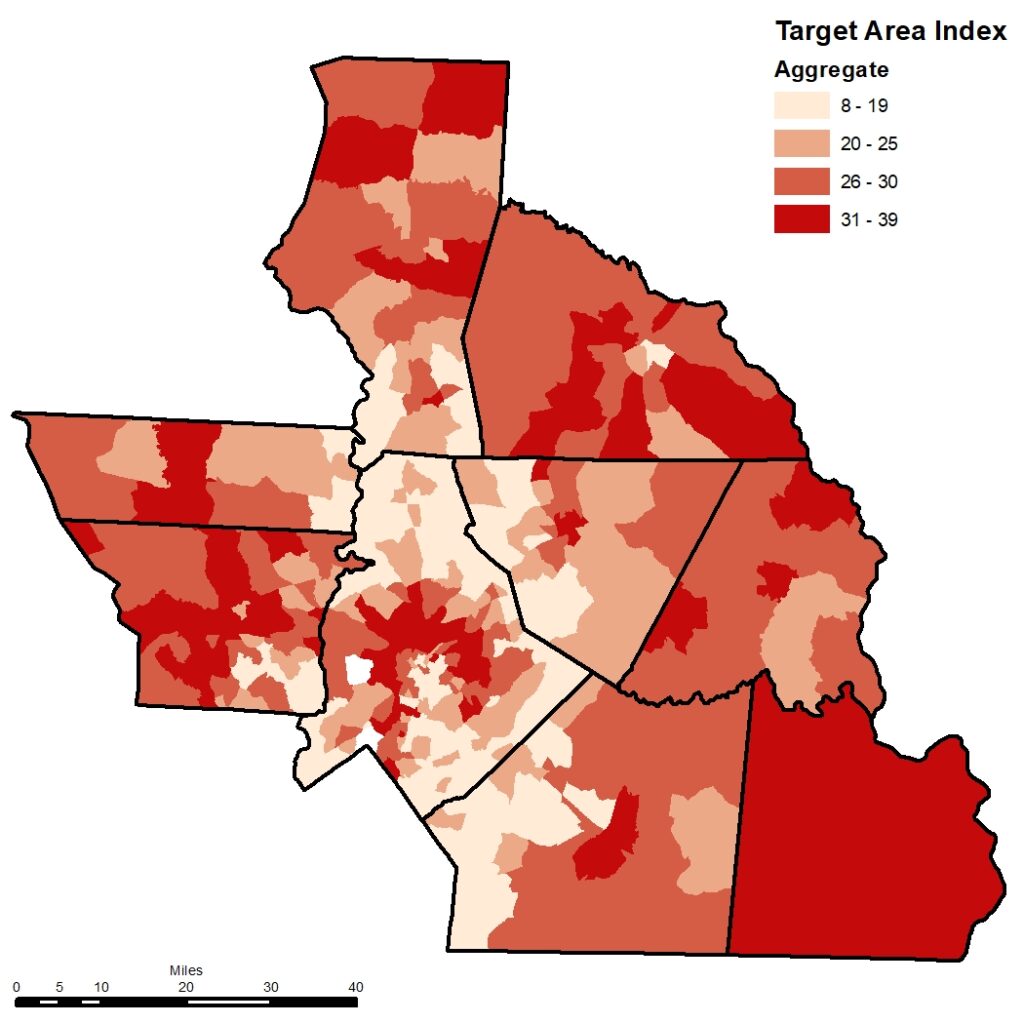 Successful Strategies:
Centralina AAA took a two-pronged approach to outreach, incorporating both regional and local strategies.
Regional Efforts: In the absence of in-person events, the project team sought out creative education and outreach opportunities.
COVID-19 booster billboards on local and regional roads
English and Spanish print ads
English and Spanish radio spots
Recorded interview with a Latino doctor to address vaccine FAQs
Vaccine webpage hosted on Centralina AAA website
Local Efforts: In early 2022, the return of in-person events allowed the project team to safely bring target audiences together to build COVID-19 vaccine awareness.
Tabling at local health fairs, vaccination clinics and other community service events
Facilitating English and Spanish COVID-19 themed bingo events
Speaking to community groups and at community meetings
Canvassing local businesses
Distributing grab bags with masks, sanitizer and test kits
Project Outcomes:
By the end of September 2022, the COVID-19 Vaccine Project outreach activities reached over 2 million people in the region through the combination of local and regional outreach strategies. During this time, vaccination rates increased by over 10% regionwide. By September 2022, 98% of older adults, 52% of Black residents and 66% of Latino residents had received at least one vaccination dose. Over the same timeframe, Centralina AAA distributed 10,000 COVID-19 related products (masks, sanitizer and test kits) to residents across the region.
The project highlighted several important lessons for organizations pursuing public health initiatives at regional and local scales:
Mix and match outreach strategies to align with budget capacity
Meet older adults, people with disabilities, and other target audiences where they are
Customize outreach to fit the intended audience
Leverage interdisciplinary collaboration
Rely on partners with existing relationships with target audiences
Clearly define the problem before brainstorming solutions
Don't try to solve it all; lean into your strengths and focus on where you can have the greatest impact
Target Area Index: Interactive Map
The interactive StoryMap below describes the process for determining the Target Area Index and shows the total index score for each census tract in the Centralina region. Scroll down within the StoryMap window to learn more about the index, see the target areas for outreach efforts, and download county-specific data profiles. Click on the diagonal arrows in the top right corner of each map to see a larger version.
Map Gallery
The maps below illustrate the connection between the Target Area Index score and various demographic data for each census tract in the Centralina region.